Worldwide: Ahead of IHM Recharge in Barcelona next week, T5 Strategies managing director and principal, Sean Worker, and #NoVacancies famed podcaster and Rouse Media founder and CEO, Glenn Haussman, address a number of kick-starter topics in the travel tech, accommodation, co-living and co-working spaces to stimulate conversation between hospitality and real estate industry leaders.
The acceleration and professionalisation of alternative accommodations, co-living and co-working
The space must demonstrate a clear pathway to profit for continued investor interest
According to gohobo, alternative accommodations are defined as "any type of accommodation that is not the status
quo", which can easily apply to co-living and co-working business models as well. The mainstream status quo hotel brands and
office space REITS have awoken as these new models have contested their dominance. The STATUS QUO challengers fall into the following categories:
Alternate accommodation includes serviced apartment companies, homes, hostels and vacation rentals specialists such as StayAlfred, Domio, Zeus, Zoku, onefinestay, Sonder ,Veeve, Generator, Luxuryretreats and RedAwning
Co-living players include The Collective, Clubquarters, Roommates, Common, Roam and Quarters
Co-working leading brands include Impact Hub, WeWork, Knotel, Make Office, Spaces, Central, Working, The Clubhouse, Regus and IWG
Trends: The evolving frontier
The decade of awakening
According to Allwork, the global market value of flex/ co-working spaces is over $26 billion. Co-living is difficult to estimate, but proptech estimates the co-living market potential in India alone to be more than $93 billion, so add a multiplier to that
for everywhere else. It is enormous. The market is significant in both categories and as multifamily and residential property investors pivot to claim their share of the space. The new world of co-living and co-working is and will continue to professionalise as each fight for real estate around the world.
the highlights of the piece:
Smart Regulation: The alternative accommodation industry will implement broader public guidance on regulations to encourage responsible tourism. Most of this will be driven by associations, such as ASAP led by James Foice, and CHPA, led by Maryann Pasi, as well as influential companies.
Property management companies consolidate and scale: It will be a race for overall dominance with mergers and acquisitions to be the next unicorns. Vacasa was the first to cross the $1 billion valuation in the space. Who might be the next?
Unique supply is tougher to find: Demand for unique alternative accommodations and experiences is on the rise, but supply is being aggregated quickly, scarcity is a challenge. According to Guesty COO Vered Raviv Schwarz, "Millennials are swaying towards short-term stays over buying homes because of a combined lack of affordability and the embracing of a digitally nomadic lifestyle. That means property managers will need to prioritise memorable experiences that trigger fear of missing out [FOMO], rather than physical products."
The hospitality, real estate and travel industries will maintain their convergence: The space is professionalising and consolidating with selective acquisitions such as Airbnb's purchase of HotelTonight, which sets the bar for others to follow. Founder of Lavanda and the Professional Host Alliance, Guy Westlake, noted: "Expect major global real estate players to broaden their strategies in order to better capitalise on local short-term rental demand and explore more diverse rental channels across their portfolios. Classic hotel chains, large and small, will look to diversify and gain a foothold in the rapidly growing alternative accommodations segment".
Industry-wide standardisation and quality control will be implemented: Airbnb has influenced so much change and set the narrative for regulators and homeowners– good and not so positive. However, a 2019 Halloween shooting incident put the spotlight on the platform's verification of guests and hosts, prompting CEO Brian Chesky to pledge to verify all listings and ban "party houses" outright. This form of ranking and vetting surely must be the new standard as cities everywhere need to be progressive in their regulatory thinking.
Co-living and co-working maturing (T5 Strategies view): Co-living is slowly being defined by such players as The Collective, led by Reza Merchant, which includes a combination of co-working and co-living options. Others such as Roommates, Common, Spaces and Roam have a variety of offerings that are setting the stage for a competitive 2020 and beyond.
In the co-working category, WeWork is certainly the ICON of zealous growth while being confused as a tech company. Highly tech-enabled you bet, but really a new wave property tenant. The possible real star may well be Mark Dixon of Regus fame who heads up IWG. He led the way in co-working spaces with Regus and now is revolutionising the space with purchases out of bankruptcy of The Clubhouse and possibly Central Working, according to Bisnow's Mike Philips. Dixon is now consolidating the space and introducing franchising as a next stage model.
With regards to Alexi Khajavi, managing director EMEA, Questex (IHIF, AHC Hotel Tec Conf and others www.questex.com ), his observations about the pressure on cities and property developers need to adapt to the Trends may well hold true.
"The demand for flexible offices and even co-living is growing, driven by both the growth in the gig-economy as well as younger generations' preference for flexibility over ownership. These cultural and economic shifts will create more demand for flexible real estate assets and developers and operators will continue to improve their business models for achieving profitability for which the markets will reward with higher valuations," he said.
James Foice, CEO of the Association of Service Apartment Providers "ASAP", shared his insight of the space, commenting: "Co-living is really banging on the door now with these short leases. It offers something akin to a modern, luxury, design-led student residence, but for professionals. And not only for those citizens struggling with the private rental sector and rising house prices – but also those looking for a new form of short-stay accommodation as well."
T5's view on accommodation
Pirate, Navy or a bit of both?
As MollyWood, the host of Marketplace Tech, noted recently, 2010 to 2019 was the decade of the platform, marketplace and app, while 2020 to 2030 is the decade of its requisite enabling software. Travel and accommodations traditionally lag in fixing known problems – look at the Global Distribution System "GDS", which was developed by the airlines nearly 40+ years ago. Sure, it has been renovated, but there is room for a full-scale demolition and reinvention (can someone fix this for goodness sake!). It is worth noting that companies like BCD, Amadeus and SABRE are tackling elements of this immense problem by developing tech-
enabled gap products.
This decade will drive the most change that travel, traditional and alternative accommodation, co-living and co-working environments have ever seen. Software, AI, machine learning, and settlement products like Blockchain are poised to change how we think about currency and transparency.
Interestingly, co-working may be under threat as an abundance of new data suggests workplace expectations are changing, and employees are recoiling at the distraction open spaces cause. Be afraid of the return of "cubes", "White Noise Tech" or more quiet rooms as employers assess the loss of productivity and culture erosion.
This theory was recently noted by Harvard's Ethan Bernstein and Stephen Turban after studying open plan office behaviour concluding that "Rather than prompting increasingly vibrant face-to-face collaboration, open architecture appeared to trigger a natural human response to socially withdraw from officemates and interact instead over email and IM". However, the flexible nature of co-working and co-living spaces enables so much more while fostering communities with economical shared benefits such as gyms and food offerings.
Who said the entrepreneur is dead? We can see that Xers, Zs, millennials and beyond like being founders and problem solvers. There is an immense generational spread of super-focused leaders delivering real change.
However, some products are early in the development cycle. We believe significant consolidation and culling of the categories will occur during the next two to four years, which is a natural evolution in any category. Think tech around the year 2000. Pets.com anyone? The big must get bigger and the small will continue to innovate and be bought. The middle may well be the endangered
species. Investors are clearly signalling that they want to see a pathway to profit and an investment monetisation plan, take note!
We will wrap up with comments from Reid Hoffman (the LinkedIn founder) which he shared on his podcast,"Master of Scale."
He said: "I believe that every startup must transition from a band of roguish pirates into a disciplined navy. Get the timing wrong, and you will quickly be lost at sea."
Wise words indeed.
Remember to click through to LEARN about RECHARGE 2020 at the website here.
Glenn Haussman is the travel industry's most exciting podcast. A fun, fast-paced genre bending programme peeling back the travel business veneer. Perfect for road warriors, leisure travelers and industry insiders, we look behind the scenes of the travel business by sharing stories, experiences, and with interviews featuring the industry's biggest names. Host Glenn Haussman is a travel industry insider, renowned industry speaker, writer, consultant, host of heretostay.tv and contributor to youmustbetrippin.com. Follow Glenn on Twitter and Instagram @TravelingGlenn.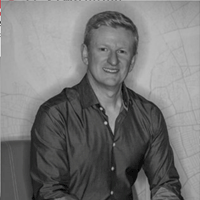 Sean Worker is the managing director and principal of T5 Strategies. 
T5 Strategies advises travel, accommodation, co-living and co-working companies on how to optimise the present and architect the future of their business.
Look out for our Glenn and Sean in discussion on LinkedIn Live over the next couple of weeks to discuss these topics.